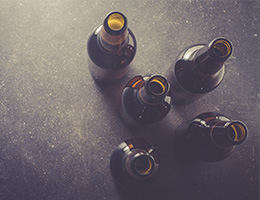 Drinking too much alcohol too fast is risky business. It's called binge drinking. And young adults often feel some of its most immediate impacts. Now, new research suggests that—on top of its other harms—binge drinking may set up younger drinkers for heart trouble.
Binge drinking is typically defined as (for men) having five or more drinks and (for women) having four or more drinks within about a two-hour period. Previous studies of middle-aged and older adults have found that binge drinking can increase the risk of heart and blood vessel problems, which the American Heart Association notes cause about 1 in 3 U.S. deaths. But for this study, researchers looked at binge drinking among younger adults, ages 18 to 45.
Among the findings? Young people who repeatedly engaged in binge drinking had raised levels of certain heart disease risk factors (with some differences for men and women). This was true even after the researchers took into account their diet and exercise habits. For instance:
High-frequency binge-drinking men had higher blood pressure and higher total blood cholesterol levels than people who never binge drink and women who binge drink.
Women who binge drink had higher blood sugar than women who did not binge drink.
For today's young adults, binge drinking could be a bigger problem than it was for past generations, according to one of the study's authors. Young binge drinkers run the risk of many health and safety issues. These include getting poor college grades, being injured in an accident or being arrested, to name a few.
Now, it seems, a greater chance of having raised risk factors now and heart problems down the road may also be among binge drinking's dangers—and all the more reason to avoid the behavior.
The study appears in the Journal of the American Heart Association.
Drinking and your health
If you drink and have concerns about your alcohol use, you can talk to your doctor.
You can also learn about the many ways alcohol can damage the body by checking out this quick infographic.
Original Source: https://pennstatehershey.netreturns.biz/HealthInfo/Story.aspx?StoryId=23f5eddb-7858-42f2-9780-f13409b0f2b7#.XH7HUIhKi70